The world of home security systems can be overwhelming, particularly if you are unfamiliar with the concept of home security as a whole.
We are here to assist you to find the best security camera.
Amongst all kinds from traditional analog CCTV cameras to the best dome security cameras, it is an important factor to look out for your personal preference before jumping into the options.
In a hurry?
If you don't have much time, use the list below to quickly find the "Best Dome Security Camera" on Amazon.
At a Glance: Our Top Picks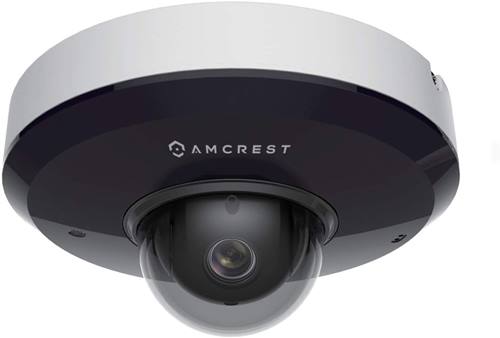 Amcrest ProHD
OUTDOOR


Check it on Amazon
✅ BEST OVERALL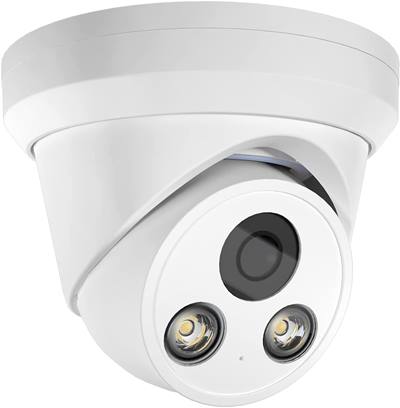 HITOSINO PoE Dome Camera OUTDOOR
 
Check it on Amazon
✅ OUR PICK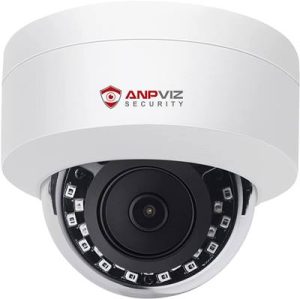 Anpviz Dome Camera
OUTDOOR

Check it on Amazon
✅ BEST ON A BUDGET
What Is A Dome Security Camera?
Dome cameras, as the name suggests, have a dome-like shape. They are specifically designed to cover larger and wider areas.
Because of the rotating capabilities, these dome cameras tend to cover a larger area. Most businesses and people who want to cover larger areas use dome cameras for specific features including;
It offers exceptional performance both indoors and outdoors.
These cameras make it hard to distinguish their direction because of their discrete form.
Dome cameras rotate 360 degrees. It allows them to cover a larger area.
To narrow down your search, we have evaluated the best dome cameras, including wired and wireless models, as well as outdoor cameras and those that are used indoors and everything in between.
It is not just about the best price or the model, but how and where you will be going to use it. Moreover, how much you are willing to invest in home security.
Let's have a look at some essential factors that you must not overlook while purchasing the dome surveillance camera
How To Choose the Best Outdoor Wireless Dome Security Camera
The best outdoor security cameras are not the ones that come with a higher price tag, but with advanced and standard features.
Outdoor dome camera is relatively more expensive than their indoor security cameras counterparts. Hence, evaluating your options is the best approach to making the right decision.
If you are having a hard time finding the best dome security camera, here are some features that cannot be overlooked for enhanced yet best-budget home security.
TYPES OF DOME CAMERAS
Dome cameras come in different types, varying in their form, connectivity technology, and protocol. Some cameras offer digital connectivity, while others are analog.
A lot of factors from installation to performance contribute to finding the best dome security cameras. Along with essential features, it is important to understand your personal preference. For instance;
Where you will be using it?
How many cameras do you need?
What is the area you want to cover?
If you are going to use it indoors or outdoors?
Depending on the use, installation, and up-gradation, we have discussed different types of cameras for you to choose from as per your requirement.
PTZ Dome Camera
PTZ, pan-tilt-zoom dome cameras allow for remote zoom and lens direction adjustment, making it possible to monitor large areas.
Pan, tilt and zoom dome cameras are designed for security buyers who want cameras that are highly rugged, flexible, and can be controlled in any direction.
PTZ dome cameras are best suitable for places such as parking lots and guard stations.
Power-over-Ethernet (PoE)
PoE dome cameras have one major advantage over others it offers plug-and-play installation.
PoE cameras require an ethernet cable to power and connect the camera to the network. It's simple to install PoE dome cameras because it does not require additional wiring.
It is best suitable for places where you already have Ethernet ports distributed throughout the buildings.
Dome CCTV Cameras
CCTV (closed-circuit television) dome cameras use on-premise recorders such as NVRs or DVRs to record video. Depending on what kind of recording device you are using, dome CCTV cameras record videos locally and also via Ethernet cables.
While dome CCTV cameras are generally thought to be safe, they are vulnerable to threats such as accessible recording hardware, port forwarding, and opening firewalls if remote access to footage is needed.
DESIGN
Speaking of outdoor use, design is paramount when it comes to durability and longevity. Some security cameras are large and bulky.
They are specifically designed in such a way that they serve as a visible deterrent. On the other hand, other cameras are tiny and subtle.
They are employed as concealed deterrents similarly. The installation location and position, as well as the sort of monitoring you want, will all play a significant role in selecting which type you choose.
Dome security cameras are built to endure inclement weather on both the inside and the exterior of the building. As a result of its design, the camera can function in any kind of environment.
RESOLUTION
Security cameras are available in several video quality resolutions, ranging from 720p to 4K.
The higher the camera resolution, the clearer the image will be. It is pointless to have blurry film captured on a CCTV camera to the point that it becomes difficult to reconstruct the face of an intruder.
You can find dome security cameras in a high resolution of 1080p, though at a higher price in comparison to the cameras with 720p or less resolution. cameras, on the other hand, cameras with the lowest resolution will cost you the minimum.
But, if the video or high-quality images are your prime concern, some models offer 2K or even 4K camera resolution.
Depending on your personal preference, choose the one that best meets your requirements.
NIGHT VISION
Cameras need light to view and record well, and as a result, capturing quality video at night is much more difficult than it is during daytime hours.
Dome cameras are equipped with unique night vision technology that allows them to see better and further throughout the night.
There are two types of night vision to choose from. Some cameras offer infrared night vision.
These cameras are equipped with infrared LEDs, which generate black-and-white video footage.
On the other hand, some cameras feature LED spotlights that allow them to record in color night vision.
TWO-WAY AUDIO
There are certain situations where audio recording is not permitted due to privacy concerns and specific legal requirements; but, where it is permitted, a security camera with an integrated microphone enables you to not only see but also hear what is going on in real time.
Additionally, two-way audio allows you to communicate remotely with anybody who happens to be on your property at the same time.
Before looking for the best home security camera, opt for the one with two-way communication.
MOTION DETECTION
The vast majority of smart security cameras are capable of detecting motion and sending out alerts to users when required.
This, however, may result in a large number of unwanted alerts from moving objects like animals, and automobiles among other things.
As an added feature, go for the camera that has human recognition capabilities. They can particularly distinguish between people and other moving objects.
Moreover, some cameras have pet detection capabilities if you want to be alerted when your pet moves about.
Even further, if you look into some high-end options, some cameras offer facial recognition.
The camera automatically detects familiar or registered faces and does not activate the alert.
NOTIFICATION ALERTS
Some security cameras include customized notifications and alerts that are delivered to your smartphone or tablet.
As soon as any movement is detected by the camera, an alarm is activated or a notification is sent to your phone.
This is a very handy feature. Because unless you have expert monitoring services enabled, it is impossible to keep track of real-time occurrences.
This feature assists you in being informed at all times, particularly when your attention is most needed and you are not at home.
FIELD OF VIEW
The overall area covered by the camera lens is referred to as the field of view. The greater the field of view, the greater the area that will be covered.
A wider field of areas means that you need to put fewer cameras on your property.
Some cameras have a broad field of vision by default, while others include changeable lenses that may be used for panning, zooming, and tilting purposes.
Dome cameras on the other hand offer a full 360° degree view. It covers almost all the sides in the surrounding areas.
STORAGE
All cameras need storage space to store videos and access them later as per the use.
There are two storage options including uploading to the cloud or using local storage such as a microSD card. Both options come with their own set of pros and cons.
Local storage: it gives you the freedom to access your file by transferring them to your system or from the card.
However, the downsides to local storage are that you cannot access your files remotely and it offers limited capacity.
Cloud storage: on the other hand, storing video footage off-site, on a cloud server is known as cloud storage.
Mostly, the cloud storage is either managed by the camera manufacturer or a third party.
The majority of cameras currently utilize their subscription-based cloud services. In other words, you pay a subscription fee to the company to record and access your video recordings and other features.
In addition, unlike local storage, you can compensate for the camera damage.
Your files are safely stored on the cloud server. In case of any damage to the camera, cloud storage offers remote access to all your previous files.
ZOOM IN FEATURES
It's all in the details! Some cameras can zoom in optically. It means that the camera lens moves closer to an object to zoom in.
On the other hand, digital zoom means that you can zoom in by pinching the live stream on the screen.
In our opinion, optical zoom is more desirable since the footage will be a higher resolution.
SMART HOME INTERGRATION
Voice assistants such as Amazon Alexa and Google Assistant are growing more popular with each passing year.
Smart home integration allows you to connect all of your home security in one place. It allows you to take advantage of additional features, increase security, and improve convenience.
Some security cameras are also capable of communicating with smart locks, allowing for the delivery of packages safely and securely.
Cameras that are compatible with Apple HomeKit will allow you to see them via Apple's Home app as well as save your video using HomeKit Secure Video.
It is a fantastic alternative for individuals worried about their personal information being shared.
DURABILITY
Along with other features, it is important to see the durability of a camera. In terms of durability, strong construction and a high weatherproof rating are essential.
A good IP rating for a camera means it can withstand all kinds of weather conditions.
An IP rating is represented by two numbers, which define the camera's threshold against solid and liquid.
The first number represents solids like dust, snow, and mud. Whereas, the second number represents liquid such as rain and fog. A Higher IP rating means that the camera can withstand harsh weather conditions.
Top 10 Dome Security Cameras
We have compiled a list of the 10 best dome security cameras for your convenience to choose from. Speaking of durability, optimal performance, and affordability, we have chosen the best indoor dome cameras.
1. Amcrest Dome Camera
● Connectivity Technology: Wired
● Resolution: 1080p
● Waterproof Rating: IP67
● Field Of View: 103° Viewing Angle
● Form Factor: Bullet
● Storage: 256 GB Local and cloud
Amcrest Dome Camera is our top pick because of its nifty features and affordable price.
This wifi outdoor camera has a 5-Megapixel 2592 x 1944p video resolution. Its CMOS progressive image sensor and processor offer better low-light performance.
It features straightforward wired connectivity. All you have to do is install the camera, download the app, and configure your camera.
In addition, the Amcrest View app allows you to adjust motion detection zones and sensitivity, as well as get email/phone alerts and notifications.
Unlike other cameras, it offers Amcrest Surveillance Pro software for Windows and Mac to record and playback videos professionally.
Moreover, with dual storage, local and cloud, your data is always safe and secure. However, you would have to get a paid subscription to utilize advanced features.
Manual pan and tilt feature.

Affordable yet efficient security camera

Dual storage to save videos.

IR LED light offers crisp and sharp night vision.
Require POE power source.
---
2. Anpviz Dome Camera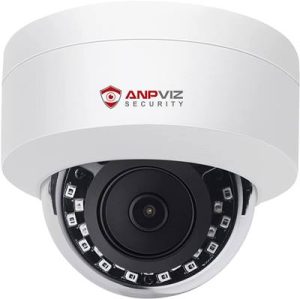 ● Connectivity Technology: Wired
● Resolution: 5MP
● Waterproof Rating: IP66
● Field Of View: 108° Viewing Angle
● Form Factor: Dome
● Storage: 256 GB Local and cloud
Anpviz Dome Camera has a 5 MP resolution as well as one-way audio with a built-in microphone.
The microphone may be used to capture sounds, however, it does not have a speaker.
Moreover, the camera offers quick and easy connectivity via ethernet cables, allowing for the transmission of both power and data over a single wire.
Furthermore, its 108-degree wide field of view, and H.265 compression support allow you to cover more area and record more videos.
This allows it to use 50% fewer data, lowering its footprint and allowing for more data storage, unlike most cameras.
This camera has an IP66 waterproof certification, making it suitable for outdoor use. Furthermore, the camera can work in a variety of temperatures.
In addition, this camera comes with nifty features that add to the convenience and an added layer of protection.
It allows remote access and control via your smartphone, tablet, and PC. Moreover, with custom detection zones, you can adjust the area to cover unwanted recordings or alerts.
Dual installation modes; ceiling and wall.

High-temperature resistance.

Exceptional vandal-proof design.

Ultra wide-angle covers more area.

Smart motion alerts.

Custom detection zones.
No two-way talk.

It uses additional power in the night vision range.
---
3. Amcrest ProHD
● Connectivity Technology: Wireless
● Resolution: 1080p
● Waterproof Rating: IP66
● Field Of View: 105° Viewing Angle
● Form Factor: Dome
● Storage: Dual; Local and cloud
Amcrest ProHD PoE security camera offers ProHD 1080p (1920×1080) video footage. Moreover, it back up with a low lux image sensor in 2MP quality that offers exceptional light in low light conditions.
A broad diagonal viewing angle of 35° to 105° enables you to cover more land while protecting what you care about.
In addition, this camera comes with the Amcrest View app.
You can download it on your smartphone to get motion alert messages, view and share videos, and listen with the built-in microphone.
However, it does not offer two-way audio recording and communication. Its pan tilt, optical zoom, and IR night-vision up to 49 feet offer clear video and sharp image quality.
To enjoy advanced features, Amcrest offers subscription plans for Amcrest Cloud. It enables you to live-stream and views video footage through Amcrest Cloud's simple interface.
Though, if you do not want to invest in cloud storage, you can record videos on the camera's local storage.
The microSD card storage gives you a good recording time in comparison to other alternatives because of the H.265 compression.
It compresses the data without sacrificing quality. Therefore, Amcrest ProHD makes the best choice for outdoor home security.
The app is compatible with both Android and iOS.

CMOS low lux image sensor.

IK08 Vandal Resistant design.

Dual H.265 / H.265 compression enhances storage capacity.
Does not offer two-way communication.
---
4. HITOSINO PoE Dome Camera
● Connectivity Technology: Wired
● Resolution: 5MP (2592 x 1944)
● Waterproof Rating: IP67
● Field Of View: 107° Viewing Angle
● Form Factor: Dome
● Storage: Local HDD
If you are looking for a quick and easy installation, this camera comes with one Ethernet wire (PoE Injector or Switch) to connect the camera and get it started.
It allows you to spin and swivel it in any direction you desire, capturing the angle you need from any mounting position.
With H.265 compression, the PoE IP camera can minimize file sizes and conserve storage space and bandwidth, saving you money.
This outdoor camera is also IP67 weatherproof, making it suitable for use in inclement weather conditions. Moreover, the built-in microphone offers real-time audio security. Though, it does not have a speaker for two-way audio.
In addition, you can download and install the Danale, Hik-Connect app to obtain remote access to live or recorded video from any location with an internet connection.
WDR reduces image noise.

It can withstand extreme weather conditions.

Image compression takes less space on storage.
Night vision is not exceptional.
---
5. XmartO Dome PTZ Wireless Security Camera
● Connectivity Technology: Wireless
● Resolution: 2k
● Waterproof Rating: Yes (N/A)
● Field Of View: Pan 355° and tilt 90°
● Form Factor: Dome
● Storage: SD Card, NVR, or Cloud Storage
The smart camera comes with a metal dome that rotates, pan, and tilt.
The camera's auto-tracking function automatically follows individuals and records their activity. It offers wireless connectivity.
Hence, you can use it independently with iOS/ Android/ PC/ Mac apps or as an add-on camera for XMARTO NVRs.
The pan and tilt mechanism within the dome of this WiFi camera allows you to traverse 355 degrees left to right and 90 degrees up and down to cover the whole area.
In addition, the camera feature smart detection. smart offers variable storage options including, NVR, local, and cloud storage.
You can download the mobile app for notifications with photos and video recordings.
The camera has a built-in high-gain microphone and powerful speaker, which allows you to communicate two-way.
Speaking of design and functionality, this camera is suitable for both outdoor and indoor use. It features ceiling mounting and wall-mount components.
You can conveniently install it both ways, which makes it a good choice for indoor and outdoor use.
8x digital zoom.

Motion detection alerts with snapshots.

Dual, ceiling, and wall mounting installation.

the smart app offers remote viewing.

Smart motion detection.
---
6. REOLINK E1
● Connectivity Technology: Wireless
● Resolution: 3 MP (2304×1296)
● Waterproof Rating: No
● Field Of View: 355° horizontally and 50° vertically
● Form Factor: Dome
● Storage: 128 GB local and Cloud
If convenience is your priority, this camera offers quick and easy installation and connects to the 2.4 GHz WiFi network. In minutes, you'll be up and running.
Reolink E1 turns 355 degrees horizontally and 50 degrees vertically. Moreover, with the Reolink app, you can easily pan and tilt around your house remotely.
Help Alexa/Google Assistant out. Control your inside cameras with your voice instead of your hands.
Speaking of performance, the Reolink E1 camera comes with 8 infrared LEDs, see up to 40 feet in the dark, and takes video in Super HD.
You can record videos at a resolution of 3 MP (2304×1296). Moreover, the REOLINK cloud allows you to upload motion-triggered recordings with 7-day free storage.
You can also use Micro SD cards to store video recordings up to 128GB. If you are looking for 24/7 recording, it links to a Reolink NVR for 24/7 monitoring.
Free cloud storage.

Compatible with Amazon Alexa and Google Assistant.

Two-way communication.

Hands-free control with Google and Alexa.

2 years warranty.
The camera freezes at times.
---
7. TETHYS Wireless Security Camera
● Connectivity Technology: Wireless
● Resolution: 1080p
● Waterproof Rating: N/A
● Field Of View: 350° pan & 100° tilt
● Form Factor: Bullet
● Storage: Local and cloud
TETHYS Wireless Security Camera is an overall decent camera at an affordable price. It offers all the essential and advanced features you can get into a high-end camera.
From real-time motion detection to alerts and notifications, you can use the free MIPC app to remotely access your videos.
This camera comes with smart vehicle detection, persons, animals, and objects. It reduces unnecessary recordings and saves storage.
This camera record videos in 1080P HD quality day or night. In addition, it offers 350° horizontal and 100° vertical pan and tilt, which covers more area.
In the dark, the built-in sophisticated night vision technology provides a high dynamic range of 32 feet. Moreover, you can use both local and cloud storage to save your videos.
Custom motion detection sensitivity.

Control all features in one app.

Dual local and cloud storage.

Alexa smart home integration.

2-way audio communication.
Camera connectivity takes some time.
---
8. Wansview Wireless Security Camera
● Connectivity Technology: Wireless
● Resolution: 1080p
● Waterproof Rating: IP67
● Field Of View: 320° horizontal & 80° vertical
● Form Factor: Dome
● Storage: Local and cloud
Wansview has been offering a fair deal of cameras for home security.
This camera offers 1080P HD video quality and seamless live video. You can remotely keep an eye on and around your home with Wansview.
When you're out and about, the built-in microphone and speaker allow you to communicate in two ways.
Moreover, if connected with Amazon Alexa, you can voice-control your camera from anywhere.
In addition, this camera offers a full 360° coverage with a 105° wide-angle improved lens paired with a 320° horizontal and 80° vertical rotation range.
You can also digitally zoom in 4 times to view details. Whether a day or a night, with its 4 940nm IR LEDs you get a crisp black and white image in complete darkness up to 5 meters away.
The wansview cloud app gives instant alert notifications and a 10-second video on your phone if subscribed to the paid features.
To access your video recordings on cloud storage, you can use the app to control everything in one place.
Crystal clear night vision.

Smart app for live streaming.

Works with Amazon Alexa.

Multiple user access and view.

Quick and easy wireless installation.
Need paid subscription to save videos.

The camera only works with 2.4GHz WiFi (not 5GHz).
---
9. ZOSI Home Security Camera System
● Connectivity Technology: Wireless and Wired
● Resolution: 5 MP
● Waterproof Rating: IP66
● Field Of View: 90°view angle
● Form Factor: Dome
● Storage: 1 TB Local storage
Amongst wireless security cameras, the ZOSI DVR home security camera system offers exceptional performance for heavy recording and covering larger areas.
For larger storage space and better image quality, ZOSI's self-developed H.265+ video coding technology.
H.265+ improves the compression ratio and saves roughly 80% storage space when compared to H.264.
Exclusive 8-channel 5MP-Lite DVR Recorder with 8 weatherproof 1080p dome cameras offers 80-foot night vision and a 90-degree view angle.
60FT BNC+DC CCTV wiring offers both video and power to your cameras. These cameras come with a 1 TB hard drive with security certification pre-installed in the DVR system.
However, you may need to get professional help if you have no experience installing a DVR camera previously.
ZOSI free app and client software on a tablet, and PC let you remotely control all your videos, live stream, and adjust cameras.
In the app, you can also adjust the custom motion detection regions individually for each camera. It helps in reducing false alarms caused by shifting trees or animals.
To satisfy your demands, ZOSI DVR provides four different recording modes including continuous, predetermined periods, motion detection, and recycle recording.
Advanced motion detection.

24/7 continuous and scheduled recording.

Local and remote access.

H.265+ video compression.

Custom motion detection for each camera
The app crashes frequently.
---
10. Vonnision Dome Security Camera
● Connectivity Technology: Wireless
● Resolution: 5 MP
● Waterproof Rating: IP66
● Field Of View: Varifocal Lens (can be adjusted anywhere)
● Form Factor: Dome
● Storage: Local
If you are looking for a comprehensive home security system, Vonnision is the one. It comes with a 5MP Sony sensor. Hence, you can expect excellent high-definition picture quality at all times.
The Vonnision Dome camera is weatherproof and can be used outside because of its aluminum body and enclosure.
This outdoor IP camera works flawlessly indoors and outdoors in harsh weather conditions.
In addition, this camera has built-in 24pcs IR LED lights. They enhance the night vision infrared distance to 98ft (30m).
Hence, you can have amazing video quality even at night. On the other hand, the installation may require professional help with this DVR security system.
This camera offers AHD and CVI video output modes in addition to the basic TVI video output option. Make sure to see whether your DVR supports the video output mode.
Capable of withstanding harsh weather conditions.

4 video output modes add versatility.

Best for both indoor and outdoor use.

CMOS sensors offer super hybrid video output.
Blurry image for motion detection.
Conclusion
Speaking of the best dome security camera, we have made sure to add convenience, ease of use, quick and easy installation, storage, performance, and durability.
While picking your next home security camera, we recommend you compare your options and not overlook your personal need and requirement. That being said, not all cameras work the same.
There are chances that one camera that works the best for your neighbor, may not give you the expected performance.
To meet your specific needs, we have created this guide to determine what camera best suit your requirements.