The era of traditional home security with the web of wires is over.
The best door sensor that works with Alexa has stolen the show by creating high-security parameters around your homes with home automation.
Smart home integrated door sensors are pretty affordable and anyone can easily install them.
Moreover, their incredibly affordable prices make them suitable for every home.
The window and door sensors that work with Alexa are a great way to ensure convenience along with remote access.
Furthermore, they work with cameras making it impossible for intruders to enter the house without getting noticed. The modern door sensors offered by different brands offer different functionality at variable prices.
Moreover, not all security sensors work with Alexa.
Therefore, we have listed the 7 best door sensors that work with Alexa to make your choice easy.
In a hurry?
If you don't have much time, use the list below to quickly find the "Best Door Sensors that work with Alexa" on Amazon.
At a Glance: Our Top Picks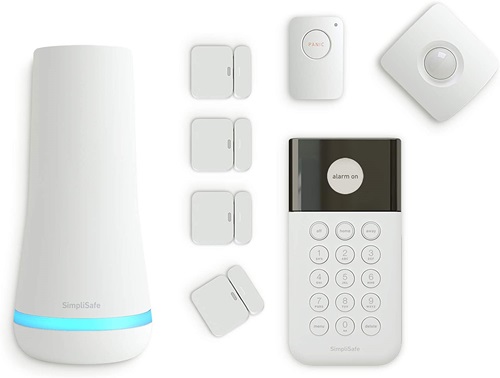 SimpliSafe Entry Sensors
Check it on Amazon
✅ BEST OVERALL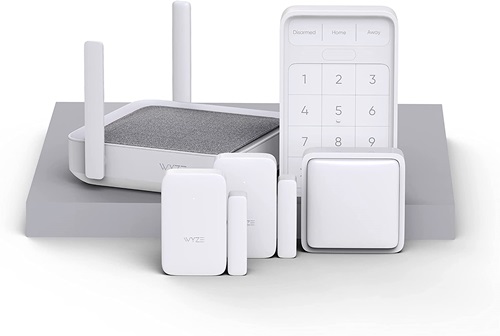 Wyze Home Security System 
Check it on Amazon
✅ OUR PICK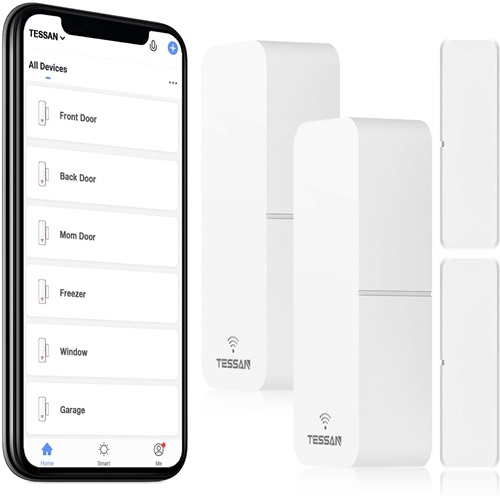 TESSAN Smart Door Sensor
Check it on Amazon
✅ BEST ON A BUDGET
7 Best Door Sensors that work with Alexa
We have reviewed the best door sensor that works with Alexa for your convenience. They are all exceptional for smart home integration and the most crucial features at a reasonable price.
1. Wyze Home Security System
● Power source: Batteries
● Connectivity: Wireless
● Weight:1.72 pounds
● Dimensions: 6.81 x 4.92 x 2.99 inches
Wyze home security system is one of the door sensors or contact sensors that work with Alexa. It comes alone, but you can buy a sense starter kit and a Wyze sense camera along with it.
The combination of these kits makes a robust security system at an affordable price.
The touch sensors can be mounted on walls, windows, door frames, cabinets, safes, or any usual or unusual place. Moreover, with the Wyze home security cameras, you can see that the contact sensors detect any unusual movement.
Due to its super affordability and tiny size, it is ideal for installation at any home. It is highly reliable as it is pet-friendly.
This best door sensor for Alexa can successfully generalize the pet and intruders' movement and does not blow the alarm at the pet movement.
No long-term contracts, reasonable price, and tiny size make it an ideal choice for homes and apartments.
Easy DIY installation

No long-term contracts

Affordable
Only available in the USA
2. Ecolink Z-wave Plus Rare Earth
● Power source: Batteries
● Connectivity: Wireless
● Weight: 1.41 ounces
● Dimensions: 3.35 x 1 x 1 inches
It stands in the list of best smart home door sensors. Ecolink Z-wave plus rare earth features two aaa batteries that can run for more than three years.
Unlike power-hungry home security devices, it is smart home systems that do not consume much power when there is no sense.
Another striking feature that makes it different is that it comes with white and brown cases in the box.
You can mold it with the theme of your house. Z-wave plus has additional features to attach to the wiring of existing home security systems. Indeed, traditional home security systems are rare, but the extra features do not cause any harm.
Moreover, it detects the opening and closing status of the smart lights, door, or window and protects against tampering by alerting you when the lid is removed. However, it requires a separate smart hub i.e. apple tv which is very expensive.
Overall, Ecolink is a reliable choice for people using Z-wave, but it is expensive to install.
A bit pricey

Requires Z-wave smart home hub
3. Fibaro Door/Window Sensor
● Power source: Batteries
● Connectivity: Wireless
● Weight: 1.44 ounces
● Dimension: 2.75 x 0.7 x 0.7 inches
Fibro shines bright in the security system industry because of its extraordinary features at an affordable price.
It integrates with tamper sensors to detect the movement of any door window, garage door, or gate. Its built-in tamper sensor increases the security level. So, you do not need to worry about the house when you are away.
It is effortless to install a motion sensor which is a type of smart sensor that works with Alexa. Its wireless system's compact design and lightweight make it quick as well as effortless to install. Moreover, the Contact sensor's sleek design can optimally integrate with any surface or interior.
It gives immediate notification of any suspicious movement, and it is also used in automatic led lights control and access control. Fibro offers many noticeable features that make it ideal for all homes and apartments.
Simple installation

Built-in tamper sensor

Integrate with Alexa

1-year warranty
Wireless connectivity range is less
4.YoLink Smart Home Starter Kit
● Power source: Battery-powered, DC
● Connectivity: Wireless
● Weight: 1.23 pounds
● Dimensions: 10.16 x 10 x 2.32 inches
Yolink is the best motion sensor for Alexa that works effectively in challenging-to-reach places like storage shed, basement, and other similar areas because of the excellent reception range.
It highly increases the security of your residence.
It comprises the kit of one or more sensors with the central control unit. This Alexa door sensor has a sleek white exterior and a compact design mounted on any door or window.
After installation, it continuously monitors the motion of doors, windows, or drawers.
Yoink is compatible with Amazon Alexa. It has a voice control feature that permits you to engage with other smart home devices and internet services.
Simple installation

High reception range

Compact design

Alexa compatible
Sensors are not rated for outdoor use
5. TESSAN Smart Door Sensor
● Power source: Batteries
● Connectivity: Wireless
● Weight: 3.84 pounds
● Dimensions: 0.39 x 0.29 x 0.1 inches
It is one of the best smart security systems. TESSAN security system is designed to detect the movement of doors and windows and send a notification within 10 seconds once the sensor is triggered.
Moreover, it is best suitable for a kid's room, front door, window, or garage.
You can integrate it with an application and check the door status and battery power. It does not require an extra smart home hub with four sensors which means no additional cost.
Moreover, it features programmable sensors with WiFi door sensors. It turns the air conditioner on automatically when the window is left open for a long time.
Furthermore, it automatically turns your smart wall switches and lights off when the door opens.
It must have a security system with solid construction and innovative features.
Long battery life

Close sensing

Easy to mount

Smart features
Do not allow to change in the sound of the alarm
6. TOLVIVIOV WiFi Door Alarm System
● Power source: Batteries
● Connectivity: Wireless
● Weight: 1.1 pounds
● Dimensions: 9.06 x 6.69 x 2.01 inches
TOLVIVIOV WiFi Door Alarm System is one of the best door sensors that work with the Alexa app. It comes with five sensors.
Moreover, you can add these sensors for windows, doors, and garage doors or any place because it supports various other smart home devices and the expansion of up to 20 sensors. The early warning system incredibly increases the security of your apartment.
It features a voice control system that allows you to control it with a single sentence.
Moreover, it works with Amazon Alexa and Google assistance. It has a DIY installation which means you do not need any professional assistance.
You can enjoy TOLVIVIOV within minutes. Moreover, it is a wireless system that does not damage your wall or the aesthetic of the room.
It comes with five sensors, two remote controls, and a base station. It is ideal for houses as well as offices, stores, and condos. This is the best Alexa door and window sensor one can wish to have.
Easy to install

Early-warning system

Integrate with Alexa and Google Assistance
7.SimpliSafe Entry Sensors
● Power source: Batteries
● Connectivity: Wireless
● Weight: 4.87 pounds
● Dimensions: 12.14 x 4.45 x 12.38 inches
Simplisafe is one of those door sensors that work with Alexa. It is simple to install a DIY home security system. Moreover, it has many options when it comes to sensors and accessories.
You can customize the device as per your requirement. So, you can easily add or remove equipment according to your need.
Moreover, SimpliSafe has a smart lock and offers professional monitoring at a very reasonable price. The best characteristic of this device is that it is highly compatible with Amazon Alexa.
You can utilize amazon assistance as you walk out of your home.
With no contract required, SimpliSafe is the best door sensor.
Easy to install

Alexa available month-by-month

No contract required

Affordable
Smart controls require a monthly fee

No touch screen
Buyer's Guide
Indeed, it is a daunting task to choose the most suitable Alexa door sensor from hundreds of options. Every brand claims to provide reliable and robust devices with exceptional features.
Before choosing your thing, you must consider these essential features.
● Installation
The placement of the sensor affects the working.
The contact sensor is most commonly found in window and door frames, drawers, safes, medicine cabinets, and refrigerators.
The working of sensors is also affected by the types of frames they are installed on. In some cases, the doors have raised edges which can cause the sensor to be out of range and result in a false alarm.
Due to this fact, initially, you need to consider the places you want to install the door sensor that works with Alexa and their design as well. Then choose the unit accordingly.
You can also ask for assistance from the sellers.
● Smart features integration
In the era of advancement, technology has done justice to home security as well. Now, you can stay connected to your home while you are away.
The door sensors can connect with the mobile and give updates about every movement.
Moreover, it is possible to connect smart home devices like window and door sensors to a smart assistant like Alexa or google home and integrate through websites.
Some detectors also work well with automation systems like turning the lights off when the door is closed and recording when the door opens.
However, consider buying the best door alarm sensor or most sensors that can be linked to the Wi-Fi website and deliver push notifications to your phone or smart speaker.
● Notification and alert
The alarm is not enough because they are not always effective, especially when you are not at home. Wouldn't it be handy if you received mobile alerts and notifications through a contact sensor?
Notification alert for door or window sensors is an essential feature for more freedom regarding remote alerts.
● Type of sensors
Different types have different sensors like some detect triggers, some sound, push, touch, etc. these selections help you check every trivial suspicious movement.
With the help of these best door and window sensors for varying needs, you can monitor if the door opened or not, even when you are away.
● Design
Reliability and durability are something that you should consider first. Indeed, it is not a one-time investment, but it is not something you buy every month as well.
While getting a hand on the security unit, make sure that it is a well-made and heavy-duty product that can go a long way with you.
Moreover, consider the working pattern. For instance, is it slim enough not to block other plugs or outlets in the case of a smart plug? The best home sensors come with a compact and compatible design.
● Functionality
Except for the notification and alert features, having some extra features will not do any harm. While considering any device, take note of features like a status check of smart lights, sound alerts, smart home connectivity, multiple access, internet connection, and app support.
Different functions merge to make an extraordinary and helpful unit. To get the door sensors that work with Alexa, first, evaluate your requirement and check which device's function stands to your expectation.
● Price
Price is another crucial consideration for home security sensors. That being said, a cheaper sensor may tempt you to get the work done. Though, it is suggested not to fall for this trap.
Low price brings fewer features. A cheap device that cannot update you with every movement does not have any reward.
It is rare to get exceptional and mandatory features at a meager price. Initially, you need to check the features to compare the prices of different devices with the same features.
Anyhow, the door and window sensor comes at a reasonable price compared to traditional security systems. However, it is not the foremost factor to consider, but you can view it after ensuring the mandatory features for a secure home.
Conclusion
You will see a plethora of security company systems rolling in the market, but the door sensors that work with Alexa must meet your needs and requirement for enhanced security.
Moreover, it is better to invest one time in a suitable door sensor than spend time again on cheap options.
Whether you are looking to upgrade your device or it is your first time purchasing a door sensor, we have offered some easy-to-install and affordable devices without the use of the Aqara app. and compromising the quality and features.
FAQs
How can Alexa be used for home security?
You can use Alexa for home security purposes in many different ways. For instance, it is used to arm or disarm the home security system.
Moreover, you can also live-stream footage or later review video storage. Amazon Alexa also features many skills for security, such as guard dogs and a feature that imitates a dog barking to ward off potential intruders.
How do the door and window detectors work?
Most of the environmental sensors such as door and window sensors use magnets to activate the reed switch when closed.
Keep in mind that incorrect installation of a magnetic sensor drastically reduces reliability and results in false alarms.
You are suggested to keep both pieces of the door sensor level and within range of each other when installing them. Similarly, other smart devices or types of smart sensors, like motion sensors, have different working mechanisms.
How to install door sensors?
DIY magnetic or motion sensors that work with Alexa are generally unchallenging to install. First of all, you should decide where you want to place the sensor in your window or door.
Then install the magnet near the sensor on the line and the arrow in the detector.
Usually, the sensor is attached to a fixed part of the door and the magnet to the counter-moving part. Moreover, there are two ways to place the magnet and sensor. You can mount them with tape or screws.
Ensure that the surface on which you will attach the sensor and magnet should be flat and clean. Moreover, ensure the orientation of both parts to each other is correct and well-aligned before you start mounting.
Learn more about Smart Home Security