You are at work, and you've kids at home. They have a nanny, and you've advised her not to open the door before asking who's on the door.
But some people can impose to be someone else, so security is highly important. What's the solution? Security doorbells.
Security doorbells are smart to have a Wi-Fi connection, online streaming functionality via video recording, it also has two-way communication as an intercom for audio, and more.
It was unknown to most of the world before 2010, but it is gaining popularity now. In fact, from 2020 to 2024, the smart security doorbell industry is estimated to expand by $1.19 billion.
What's the reason? Let's find out.
Home Security Doorbell
Security doorbells are for homes, commercial, and residential areas. But I am standing from a 'homeowner' perspective here, so I am going to talk about home security doorbells.
I installed the security doorbell at my home when I went on a work trip, and there was no one to look after the house. Do you want to know the best feature?
The security doorbells aren't just for telling you who's on the door, they also DETECT people near the proximity of your house.
I can't tell you how blessed I felt with this discovery!
What Makes Security Doorbells Different from Other Doorbells?
Like other smart home devices, smart doorbells will provide you with the comfort that you are protected by their increased digital security features.
Usual or contemporary doorbells aren't a top solution to rely on for your or your family's safety. How? Because:
Usual doorbells don't use the video feature.
Non-digital doorbells also only serve the "bell" services with no audio compatibility.
They are not compliant with detection services.
Since the security doorbells are advanced to detect movement, they deter crime efficiently.
So if you've made a decision or thinking about it now… Why don't we have a look at the features in detail?
Features of Smart Security Doorbells?
With numerous sophisticated doorbells available, they all work in the same way. But, a smart security device has its special place in the market today.
To begin with, installing and placing a smart doorbell outside of your home or next to the main gate will be the initial step to experiencing the features here.
You can only have a door ring once you deactivate the already existing one by replacing it with a smart doorbell. The good part is: the smart doorbell will most likely work with existing wiring.
Once you are ready to make good use of security doorbells, link them to your Wi-Fi and any associated applications, which generally include:
Sound connectivity to the bell itself goes throughout your household when anyone is at the gate like a regular doorbell.
When someone rings your doorbell, you can observe the live video-recorded films or collect photographs via configurable cameras.
When someone arrives within range of your doorbell, motion alerts are sent to your mobile device even if they don't ring it.
Features such as night-vision cameras, provide clear photos even when it's dark outside.
Two-way communication using high-quality sensors and speakers, allows you to communicate with the visitor at your front door using your smartphone.
You can utilize this option from anywhere, giving the impression that you're at home, even if the house is vacant.
How To Choose Your Security Doorbell?
Compatibility with other digital sensors, such as light sources, allow you to create rules like turning on porch lights automatically when the sensor detects.
The connectivity to a mobile app is the most crucial aspect of a smart doorbell. This feature allows you to view it on the other end of your entrance without laying a finger and from any location on the planet.
Specifications of a Perfect Smart Doorbell
Are you prepared to begin your search for a smart doorbell? The specifications you must compare while deciding which home camera to buy are listed below.
Choose a video doorbell camera with a 180-degree field of view, auto-scaling, full capacity, and at minimum 720p pictures.
Either infrared or full-color night vision should be available on your camera.
Look for powerful, high-quality speakers and an omnidirectional mic when it comes to audio.
The motion sensor should detect movement anywhere between five to eight feet from your front door.
Make sure the doorbell automatically connects to Wi-Fi and has security features to avoid hacking.
If batteries power your digital doorbell, the included batteries should last several years before needing to be replaced.
Look for a model that is simple to set up and can be mounted on a level surface.
If your doorbell must be connected to a mechanical or digital doorbell chime in your home, make sure the voltage and functioning range are suitable for your needs.
Size and design: Use a doorbell that matches the style of your home and is the right size for the area where it will be installed.
Did you see the repetition of the word "video"? That's because the security doorbells are most used because of their video feature.
Home Security Doorbell Camera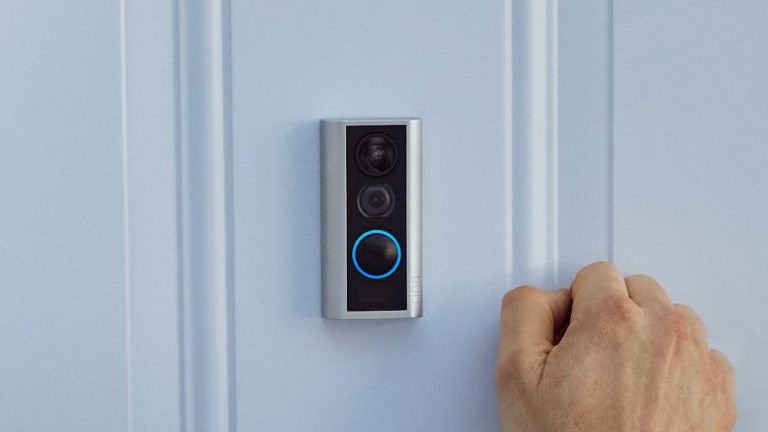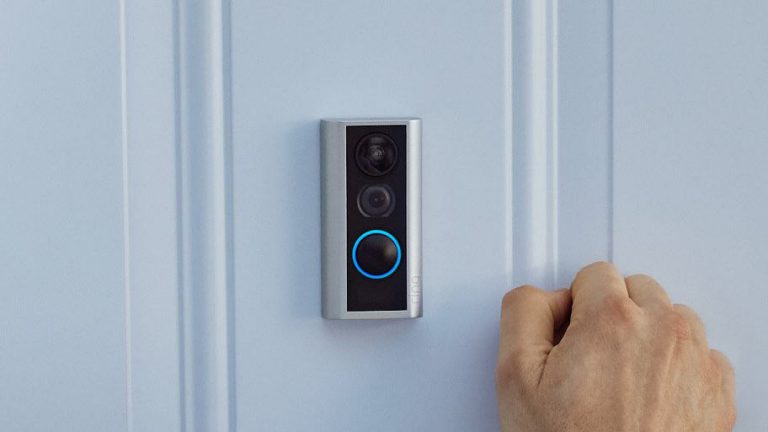 A video doorbell is commonly known as a doorbell camera. It is usually powered by a battery or wired into a preexisting doorbell (if you have one).
The flexibility that these security doorbell cameras offer is based on the camera's artificial intelligence capabilities.
If you've one camera already installed, you'll be notified via a mobile app when someone presses the doorbell or when the camera detects motion or a person.
You can directly contact the person in front of the camera via a smart display or smart TV device, or you can use the integrated app to see and chat with them.
How Do These Security Doorbell Camera Work?
Video doorbells work almost like security cameras. It does its job by recording videos and audio through infrared LED sensors or a spotlight during the day or night, and audio through a speaker system.
You can save these recordings either locally on a cloud or on a built-in microSD card. When a person rings the doorbell, the device detects motion and sends a notification to the user's mobile app, usually done over a Wi-Fi network.
Some of these cameras utilize Ai technology to distinguish between people and animal movements to only notify you only when needed.
Sure, you can't stay at home each day to keep criminals at bay; you have tasks to perform, errands to do, and children to look after.
But video doorbells are useful because if you're at home or when you're not, you can attend visitors at your door from anywhere with an internet connection.
That's a good thing because most burglaries occur between the hours of 10 a.m. and 3 p.m. when a home is unlikely to be occupied.
Apart from these facilities, there are a dozen other perks to security camera doorbells.
Top 3 Benefits of Using a Security Camera Doorbell
Video doorbells have made life easier. With technology's touch, the doorbell cameras are robust in function.
There's a constant increase in the sale of these security camera doorbells. A recent study by Consumer Electronics has expected video camera sales to increase by about 1.4 billion USD in 2023, and I believe it's fair enough.
The top 2 benefits that I've been enjoying for a decade almost are:
1. Comfort
I can't stress how much these video security cameras have made my life easier. Each time the bell rang, I didn't have to race downstairs only to see it was a pamphlet distributer.
Rather, I just looked in on the connected app and saw who was at the door. You can also welcome the visitor and let them in.
2. Improved Security
Parcel theft is a common (and frustrating) issue for residents and renters, and video doorbells can help prevent it.
As per the Parcel Pending survey, every 1 in 5 US citizens have got their parcels stolen, but with video doorbells, you are alerted as soon as packages arrive, alerting the mail carrier exactly where to put them.
If any burglars approach, you are promptly warned and summoned them using the doorbell camera audio.
Easy Installation
The majority of video doorbells are DIYs, and that's the best part about it. On the other hand, some manufacturers provide or even require expert service, which will turn your life in a much easier direction (although it may include a hefty fee).
You can easily judge whether or not the doorbell camera is difficult for a DIY installation. If it's hardwired, you'll have to disconnect your old doorbell and link its electrical cables to the new device, as well as maybe disconnect your chime.
Battery-powered video doorbells are quicker and more convenient to set up because you only have to attach or mount the gadget on the wall instead of bothering about any interior wiring.
Doorbell cameras are one of my favorite types of smart home equipment, whether for safety or convenience. Do you want one of your own? See how you can use one.
The Usage of Home Security Camera Doorbells
You can control and manage your place with some security system settings from a central control panel, including the smart doorbell.
Sensors for your front door: Combine sensors with your doorbell camera for a comprehensive view and protection of your front door.
While most doorbell cameras come with motion detectors, having them installed somewhere else in your home can alert you if a possible burglar travels from the front porch to another location.
Smart door lock: If a familiar visitor arrives at your house when you aren't present to let them in, you may receive them with your doorbell camera and then use your security code to unlock the door with them from a distance.
Smart temperature settings: When you've received your visitor with your doorbell camera, manage energy remotely to dial up the heat for them.
Indoor camera systems: It makes no sense for security to end at the front door. Installing wireless cameras installed around your home will assist you in keeping an eye on things.
Professional monitoring: Have a piece of mind knowing that your smart home is being monitored by a competent monitoring center 24 hours a day, 7 days a week.
For example, suppose a thief is caught in the act on your doorbell video and subsequently sets off the alarm. In that case, the professionals can call you right away to confirm the concern and, if necessary, dispatch the police.
Conclusion
A security camera doorbell has been at my rescue for 10 years or more. I am a user, and that's why I am completely honest in my opinion about the technology.
What do you think about the security doorbells? Share your views in the comments!
Learn more about Home Security