You will find a wide range of home security door locks in the market that claim to be the best when it comes to protecting your space.
Without being heavy on your pocket, not every door lock is efficient. I prefer looking for essential features and specifications, which distinguish one door lock from the other in terms of functionality.
For ultimate security, it is vital not to overlook the factors that add to the reliability. I will be sharing my experience with the best home security door locks as per the categories that level down from beginner to professional home security.
Smart locks Vs. Traditional locks
Do not compromise the foundation of your home security for the best price. It can cost you the best protection for your valuables and loved ones.
Investing one-time in high-end home security locks, you can save time and again maintenance and upgrades unless there is a crucial need like changing your home or door.
Locking systems are more advanced and efficient than in the older times.
Keys are so outrated, it's the 21st century!
Smart Locks
Smart home security door locks are automated, which means that these locks are connected electronically or remotely via a wi-fi connection or an app.
Working; Smart Locks
Where traditional locks need a key to receive the command, unlike that, a smart lock needs to receive pre-authorized operation instructions from the control panel or the base station.
Traditional Locks
I would go for the term "non-automated" for traditional locks as most people are unaware of the term traditional lock. The locks that cannot be automated and need to be manually engaged for operation or mechanism are traditional locks.
Working; traditional locks
These locks need a key to activate them or get them working, which calls for manual action to ensure security and protection.
Home Door Security Locks; What to expect?
You will not know that you need a smart door lock for home security until you get one!
Besides being more secure and easy to use, you need to know what to expect from smart door lock security.
Smart Home Security Locks Are A New Sensation!
Smart locks are not just good at being reliable, but they are efficient when it comes to other security concerns, like adjustable controls, notifications, alarms, auto-locking features, and much more.
Here are some of the perks you get with smart door locks;
Wireless Connectivity
Smart home security has made protection a breeze with its wireless connectivity.
These locks are connected to your mobile phone via an app or Bluetooth, which offers all the locking operations a click away.
You can remotely monitor the security status of your home
It offers you the remote operation of the lock via a smartphone app
You can DIY your lock with an existing internet connection or pre-wired home security
These locks can be customized as per your personal preference
Voice Command
Could it be any more convenient?
I am in love with a voice command smart locks offer. You can connect them to Amazon's Alexa or Google Home to operate the lock with voice commands without needing to pick up your phone at all.
No-key Replacement
The best part of home security locks is that they eliminate the use of a key, so you do not have to worry about it all the time.
Smart door locks are operated (locked or unlocked) with a smartphone app
You can change the code as per your need
You can prevent unauthorized entry into your space
Some smart locks even have face detection that helps in restricting the entry of certain people.
Visual Appeal
I know right!
Outlook and appearance are paramount when choosing a lock for your home. Along with ultra-modern high-end protection, smart door locks are highly aesthetic.
You can find variable design, colors, sizes, models, and finish from matte to glossy, chrome, silver, gold, and whatnot. These are some of the features that you will not find in traditional locks.
Overview of the downsides
Well, the talk is, "every lock can be picked."
One way or the other, intruders know how to pick any lock. İn such a case, you need a lock that provides the best security by offering instant notification or activating the alarm system.
You have to keep in mind that the smart locks are tamper-resistant, but not tamper-proof.
They offer the best encryption for your data, but they still can be hacked. Smart locks work on wireless technology that can be compromised by other radio signals.
You may need a backup!
For the best explanation, smart door security is the most effective in offering protection, but anything can happen. For the safe side, you need to have a backup.
What if the Wi-fi goes out of operation?
How about the battery going down?
What if there is a power outage?
You do not want to be stuck outside, right? With smart locks, you must always have an alternative way of entry.
Compatibility
Where smart locks are adequate in offering the best security to your home, a little turn-off is that they are not compatible with every existing lock at your place.
For instance, some smart locks can only work best with deadbolt locks and not with double-cylinder deadbolts. It limits their versatility to some extent.
Some locks do come with a configuration that does not support any other locks in question.
For instance, Kevo Kwikset has its own set of lock cylinders and interior setup that need to be replaced with any other existing door lock.
Both the locking mechanism have their downsides, but keeping the benefits on hand, smart locks are proved to be more convenient and beneficial.
The Best Home Security Devices For Doors
Keeping under consideration what you must expect from smart door locks, I am sharing some of the best home security door locks, known for their high-end performance and durability.
August Wi-fi Smart Lock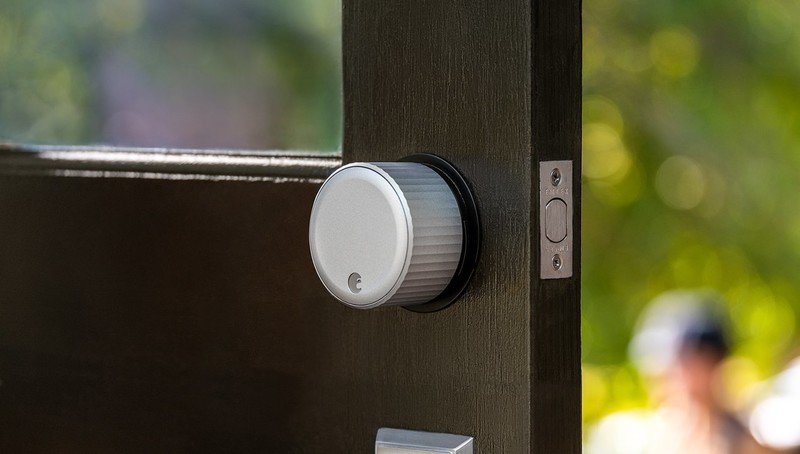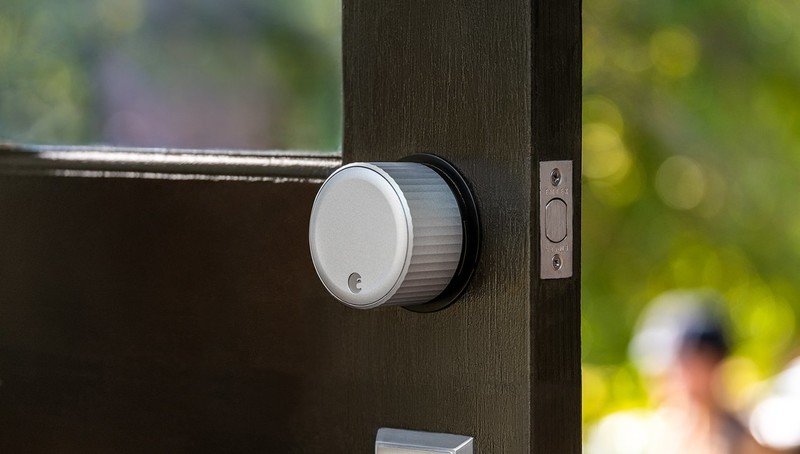 Why you should get it?
Well, speaking of the best value for the money, this lock is amazing for all of you who would like to have stress-free protection for your home.
Integration; It offers the most versatile voice command connectivity. You can connect it to Amazon Alexa, Google Home, HomeKit, IFTTT, and others. İf you have any one of these already, this smart protection can be an efficient cost-saving addition to your home security.
Automatic locking & unlocking; If you are in a hurry or forget to lock the door, no need to be worried. August smart lock offers users with auto-locking mechanism, which ensures ultimate protection.
Easy Installation; this lock is compatible with multi-platform, which makes it the best for beginners. For first-timers, you need to install an app, register, and log in to use the lock.
It comes with an instruction manual you can use to install your lock to the door and then connect it to the app to start monitoring.
Adjustable settings; I am in love with how easy to use interface and adjustable settings this lock has to offer. You can adjust notifications and alarm alerts as per your preference.
What you must not overlook?
The only thing that got me a little worried, is the battery life and for that, it seems a little overpriced to me.
Battery life in comparison to August Smart Lock vs. Pro
Seeing the smaller size in comparison to August Smart Pro, it uses two CR123 batteries in place of AA, which compromises the battery timing a bit. Stealing a deal, you still get 3 to 4 months on average.
Well, besides the time, there are a few more things you may not overlook, such as CR123 batteries being expensive in comparison to AA.
Price
For a price under $350, August Wi-fi is the overall best lock, easy to install, robust in construction, and works with a wide range of home devices, unlike most smart locks.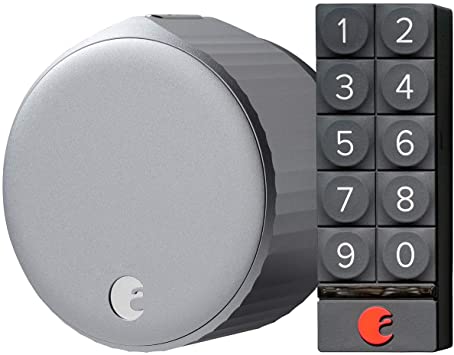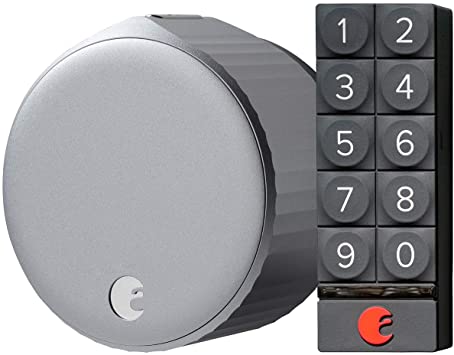 Wyze Lock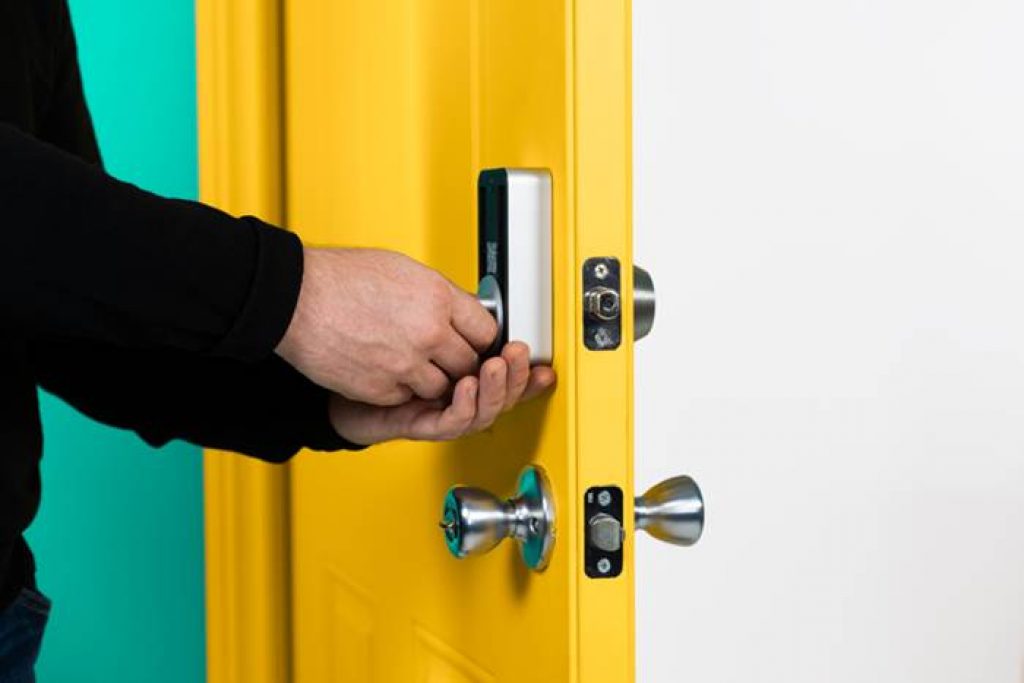 Why you should get it?
Whereas, for the best budget, I would like to mention Wyze Lock as it is the simplest smart locking device with basic features that offer secure locking to your home.
Installation; it can be used with your existing cylindrical, deadbolt, and latch locks with a plug-in module that offers easy and quick installation.
Batteries; with AA batteries, Wyze lock gives better timing and cost-effective energy saving.
Design; this lock has a brushed aluminum finish with a thumb turn at the bottom and LED at the top, which turns green and red when the door is locked and unlocked respectively.
App support; like other Wyze devices, you get app access to check the status and lock or unlock the door.
Features; wi-fi connectivity, mobile app support, push notifications, location tagging, guest access, and tamper alarm.
What you must not overlook?
Third-party integration is not available in Wyze smart lock, which can be compromised for the price, especially if you are looking for something basic for a small space.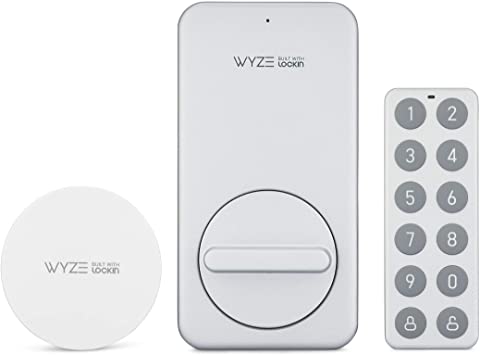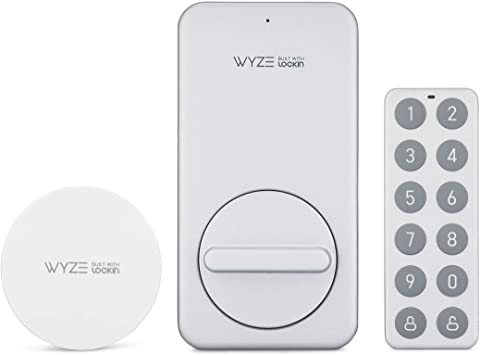 Final Verdict
Finding the best home security locks is more than just the price and design or model. You may have to compromise one feature for the other to get the best deal that suits your needs and is the best value.
Along with the best features in the lock, you must look for the backset, lock type, door type, and use.
If you spend more time outside of the home or have kids back at home to be looked after, it is better to invest one time in the best locking system. A tamper-proof lock that also provides you with instant access and data tracking is crucial.
Having an understanding of the locks available in the market, you can find locks that are not just built to last a lifetime but are the best to foil the most talented lockpickers!
Happy locking!
Learn more about Home Security