And Why Parents Should Think Twice About Using Them
Ring cams are an affordable and customizable way to protect your security at home.
These Amazon-owned security cameras are motion-activated devices that enable you to watch your house from anywhere using your phone, tablet, or computer.
The company is also well known for its video doorbells.
But, can you use Ring cameras as baby monitors?
The simple answer is yes. However, there are some shortfalls to this home security camera that make it less than ideal to watch your babies or even your older kids.
If you decide to try one anyway, the Ring Indoor Cam Plug-In is a good one to start with.
Another effective option for watching your little ones at home is the third-generation Ring Stick-Up Cam Plug-In.
What type of Ring Cam do you need?
If you want to use a Ring camera as a baby monitor, you need to consider the options best suited to functioning in that way.
The company, which offers an ecosystem of smart home security products, has four categories of cameras to choose from:
1. Ring the doorbell
2. Spotlight Cam
3. Floodlight Cam
4. Stick Up Cam
5. Indoor Cam
There are a variety of options under each of these Ring products as well as smart alarms.
To use Ring devices, you need WiFi for setup, a phone or tablet as well as a Ring account to operate the Ring app.
Monitoring a baby's room means you're looking for indoor home security, so first-time buyers can narrow the search to just two types: the Indoor Camera and the Stick Up Camera.
Both of these devices are designed to be used mostly inside the home.
These cameras share similar basic features including night vision, 1080p HD video, two-way audio, 110 Degree Field of vision (FOV), digital zoom, and manually-activated alarms, and both are Alexa compatible.
So, what makes the Ring Indoor cam the most viable option for use as a baby monitor?
Ring Indoor Cam – Compact Plug-In HD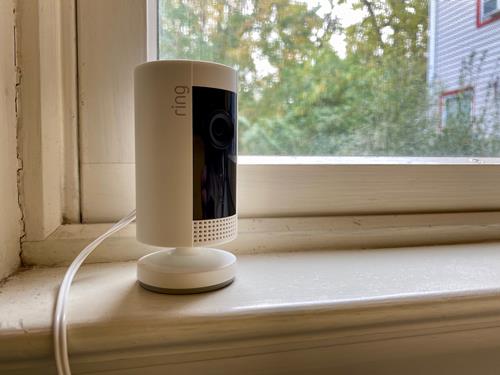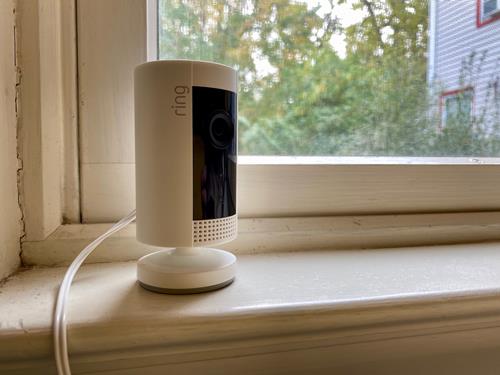 This camera has a plethora of features that lend themselves to monitoring your little ones.
It is firstly, affordable, under $60. It has a large viewing angle or field of vision, so you monitor as much or as little of the background as you want, with the high video quality.
The Ring Indoor camera also offers night-time vision options, making it a more precise picture for parents to monitor their infants in the dark.
Also, motion alerts warn you if the child has moved or if anyone has entered the room.
You can pair this device with Alexa as well – a useful option if you already have other smart devices at home.
Other features of the Ring Indoor Cam include:
Records for one-minute increments, and saves to cloud storage (with purchase of Ring Subscription basic plan).
Compact design and plug-in functioning mean you can set it up in multiple ways and never have to worry about the battery dying.
You can watch your child's video feed from just about anywhere using your phone, tablet, or other compatible devices.
Two-way talk allows you to hear and speak to your baby.
The Live View feature means you can check in on your little one in real-time at times using the Ring app.
Easy setup since it's a plug-in nonstop power source and connects to your existing WiFi.
The motion sensor/detector starts recording three seconds before motion is detected, so you won't miss anything.
Another good option is the Ring Stick-Up Cam.
Ring Stick-Up Cam – Plug-In HD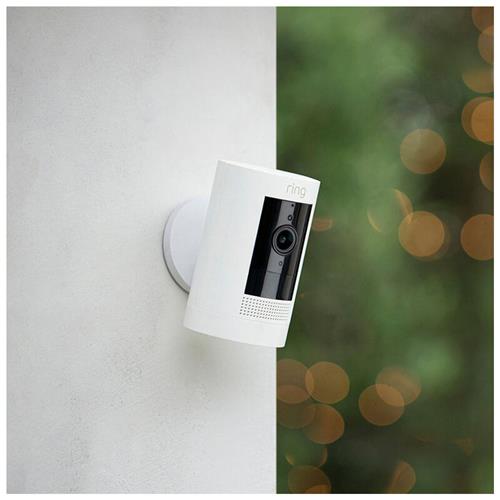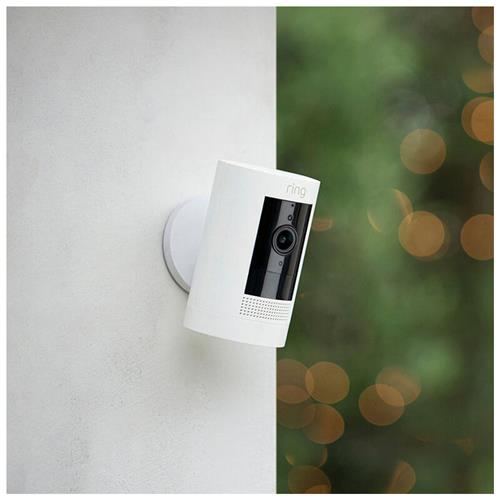 This device is more flexible than the indoor version – it can be mounted indoors or outside the home.
It is also affordable at under $100. Again, this camera is two-way talk and Alexa-compatible.
You also get peace of mind from the continuous power source of a plug-in so it won't turn off when you're looking out for a baby or any suspicious activity.
Other features of the Ring Stick Up Cam include:
Live View allows you to monitor your baby whenever you like through the Ring app.
View from anywhere so you can whisper or sing to your baby through your phone, tablet, or select Echo device.
Customizable privacy zones and audio privacy, so you can decide what is more important to watch in your child's room.
Works with other Ring cameras placed in other rooms and can be part of a Ring "ecosystem."
Flexible and easy to mount on a wall or shelf and simple to set up through the Ring app using WiFi. Could be used as a nanny camera as well.
The Ring Protect Plan allows Ring users to record all videos and review them for up to two months. You can also share videos and photos with others.
Night vision options so you can see the baby in the dark.
Weather-resistant so when your child gets too old for the monitoring, you can switch it to outside security.
Battery options are available
Ring Stick Up Cam also has popular battery versions that work well for a child's room.
You even have the option of adding a Ring solar panel designed to charge the battery with just a few hours of direct sunlight.
The advantages of these are that they can be mounted anywhere in the room as there's no outlet to have to worry about.
They use a rechargeable battery with a long life of around 60 days, but you can also get the Stick Up Cam that comes with an extra plug-in addition.
How to Use a Ring Cam as a Baby Monitor
You will need to follow a few steps to install and set up your camera as a baby monitor. These steps are slightly different depending on your particular Ring cam.
Download the Ring App from the App Store or the Play store. Plug in your Indoor cam or your Stick Up Cam.
Once you've created your account and logged in, tap "set up a device" then select "security cams."
Scan the QR code that is on your camera or in your device's product information.
Specify your location by confirming your phone's location.
Connect to your Ring camera. On IOS, tap "join" when it asks to join the Ring WiFi network. On Android, your Ring WiFi should automatically connect.
Connect your indoor camera to your WiFi. You'll want to be near your router with your WiFi password handy.
Test your device. Now you can set up your camera's motion zones. Then go into Live View and see if the camera is working as expected.
To find out more about physically installing a Ring camera, you can go to Ring's support center.
Drawbacks to using Ring Cam as Baby Monitor
The Ring cam has many features that work well as a baby monitor, but a closer look reveals some disadvantages to using it for this function.
There are several reasons a Ring cam may not be a viable option for you.
Live View Turns Off After 10 Minutes
All of Ring's cameras share the same video length. Using the app, you can see your chosen image from your phone, tablet, or other Wi-Fi-connected devices.
Perfect, right? But the issue is the "view" only streams for 10 minutes at a time.
There is no way to keep the Ring app open for longer. This means your connection will need to be refreshed every 10 minutes and you will have some downtime where you won't be able to see the baby.
Regular baby monitors allow parents to watch their child uninterrupted in case the baby needs help.
Motion Stop
This feature means your Ring cam will stop recording when it no longer detects movement.
After 20 seconds, battery-operated cameras will automatically shut off recording, while hardwired devices will shut off after one minute.
Ring representatives say this was implemented to save on battery life and data charges.
For parents, this can be a no-fly zone, as it means if the baby stops breathing and there's no movement, they will have no warning that something is wrong.
No Audio When Ring App Is Closed
Another issue is the audio ring alert. Most parents will wake up when the baby cries or makes a sound through a regular baby monitor.
If and when the Ring app shuts off, parents won't be alerted if the baby is crying. There is no background audio feature for these cameras.
Regular baby monitors, on the other hand, include a camera with a microphone as well as a parent unit, which includes a display and a speaker.
Sleep-deprived parents can hear the baby continuously and will be alerted if the baby makes any sounds.
Also, another problem concerning the audio is if you are awake and decide to peruse YouTube or some other app on your phone, you will not be notified of your baby's cries.
The Ring app must be open and running.
Bright Blue LED Light
Many users who have used their Ring cams as baby monitors have complained of the blue light that turns on when there is motion at night.
As the camera detects motion or the parent decides to check their live viewing feed, a blue LED light switches on.
Not normally a problem, but in a dark room when the baby is sleeping peacefully, light becomes a blinding spotlight.
Imagine the pain of finally getting the little one to sleep and you have your live view activated. The baby turns or kicks, the blue LED comes on and your baby is bathed in bright light.
Now your Ring baby monitor has turned into a nuisance and a screaming infant beacon.
And this is not a feature that can be disabled. Some parents solve the issue by covering the LED light with black electrical tape, but this isn't a permanent fix.
Hacker Fears
The video you are watching of your baby is the same video that a hacker can watch from anywhere in the world.
You are streaming video over the Internet. With this streaming technology, comes the potential for virtual intruders – hackers who access your Ring app and play games with your home security.
It's a disturbing indication of unauthorized access.
A little over two years ago, a video went viral of a hacker talking to an eight-year-old girl in her room through a Ring security camera system.
The girl responded to a man's strange voice which she initially thought was the voice of Santa Claus.
It led to a class-action lawsuit against the company, arguing that the app was not secure enough and allowed intruders to access users' private homes.
Ring mostly blamed the intrusion of customer privacy on password weakness and improper sharing among its users.
Now, the company utilizes a two-factor authentication system and encourages Ring users to create strong passwords.
Still, parents may want to veer away from monitoring their children using streaming video.
Most importantly, Ring itself discourages the use of its cameras as baby monitors.
Wrap Up
Ring cameras are a highly practical and affordable way to protect your home's security.
For parents who choose to use one as a baby monitor, the Ring Indoor Cam, is a basic option that has the bells and whistles to do the job.
It boasts live video which you can access from inside or outside your home on a phone or tablet as well as night vision and motion detection through the Ring app.
But, even with its functional features, parents should pause and reconsider using Ring cams as baby monitors.
Most importantly, you will not have a constant view or audio of your little one – a dealbreaker for most parents.
Your peace of mind and your child's safety and comfort could be at risk.
Learn more about Smart Home Security