Your friends must have told you to get your foot in the door' when you're hunting opportunities for professional growth.
That's great for motivation when we use it figuratively because taking it literally is a crime that sadly has become quite common.
The International Association of Certified Home Inspectors (NACHI) says 34% of burglars enter a home by breaking the front door. It's alarming!
How to secure a door from being kicked in?
We can't just sit and wait for our turns, right? So get in action and learn ten kick-proof ways to secure your front door from intruders.
After an extensive study of the tools and the process, I've shared some of the easiest and most practical ways for you to secure yourself from security threats.
Let's get started.
7. Use Door Jammers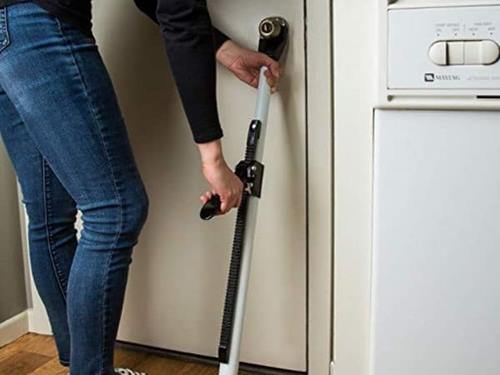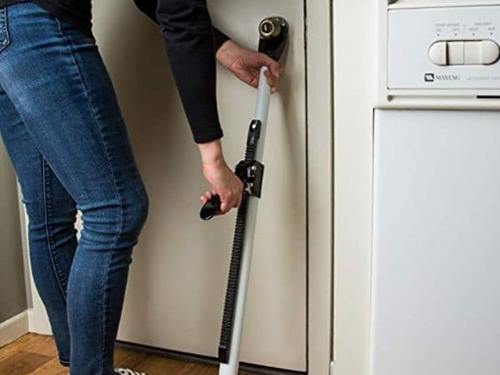 If you want a quick and reliable solution to kick proof door that doesn't ask you to spend hundreds of dollars and days replacing it, door jammers are the perfect device for you.
Most people use this device to prevent doors from being kicked in and as an extra security measure, especially when they are home.
You can't entirely rely on this device, and I agree. It would be best if you tried other tips given and then kept the jammers for additional support.
The door jammers are very effective in protecting you from door-kicked-in situations.
They are portable, affordable, and adjustable, so you can easily set them up and place them on the locked doors with a few settings.
To begin with, pick up a pen and slide it from under the door. If the pen passes through it, your door is compatible with the device. The jammers are fixed in the door from below, so having some space there is very important.
Steps:
Once you've checked the space, pick up your door jammer and place it under the door. It will fit for sure.
The jammer will have a handle for size adjustment.
Start turning the handle clockwise until it meets 0.18 to 0.19 (the ideal size experts suggest)
Try to pull the jammer with slight force to verify if it fits.
Turn the handle anticlockwise to remove the device.
Boom! You're done with fixing the jammer. If anyone tries to open the door, they'll have to go through the jammer first.
Benefits
Easy to use (hassle-free installment)
Efficient (secure your home)
Flexible to use indoors and outdoors.
Portable (carry it anywhere)
Lightweight (all age groups can install them)
Low maintenance (the purchase costs only. No battery replacement or recharge)
The door jammers come in a variety of sizes and options. You can get a door jammer from online stores like Amazon or local tool stores for under $100.
6. Security Bars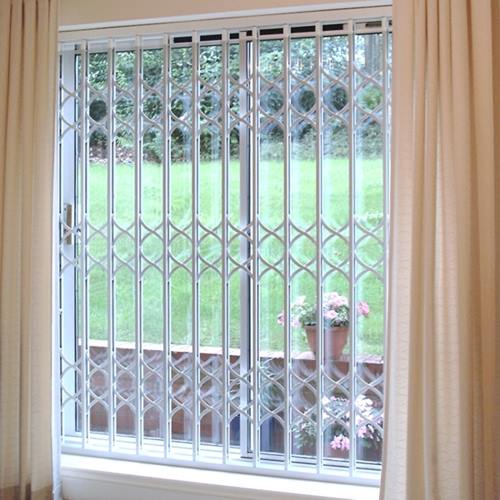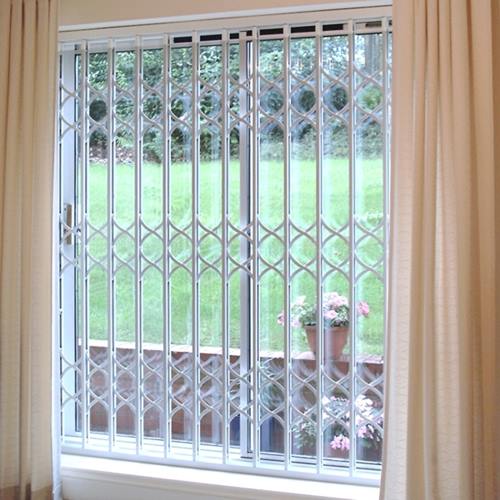 Security bars, just like door jammers, are one of the best ways to secure a door from the inside to prevent kick-ins.
Even if the burglars somehow manage to dodge the intelligent security system (which is very unlikely) you've put in place, the security bar will keep them at bay.
Security bars share the same characteristics as door jammers. The only difference is the structure. Where door jammers are small, security bars are long tubes used indoors to deter thieves.
Steps:
Get a standard 36-inch security bar (horizontal).
Unpack it. The package will have the bar, manual, and some lag bolts inside to mount the bar on the door.
The steel bar will have jack studs or top holes for the mounting.
Mark your door where you will fix the security bar using a pen or pencil.
Use a drill machine on the mark for the screws.
Go over to the other side of the door and hook in the jack bolts using a hammer.
Once the jack bolts are fixed, go inside to secure them with the screws.
The base is set, and now is the time to mount the bar with longer hooks.
The bar is mounted. If the clips are longer than you need, you can cut them short.
The installation steps will be effective in preventing door kick-ins. There are portable security bars as well. You have to fix one end in the doorknob and another on the floor, and you're done.
Benefits
The choice to buy portable fixed bars
Protection
Affordable
The security bars are proven to work, and people keep them at home like they keep other household essentials to protect their property and personal space. Security bars are readily available in the market.
5. Sensor Lights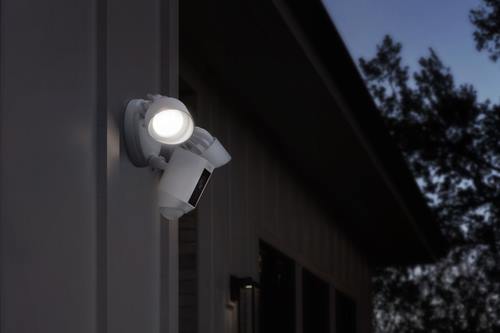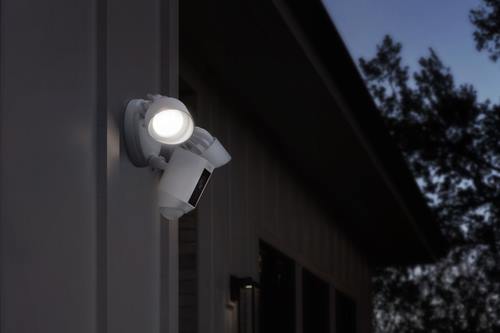 You can also prevent the front door kick in with sensor lights. They are accurate and quick to respond to threats, but I don't deem them as reliable as other options we have discussed.
Sensor lights can confuse burglars, but there's no guarantee they won't break in with the lights on since they enter through the front door.
However, they are not a wrong choice when added with door frames or deadbolts.
4. Solid Core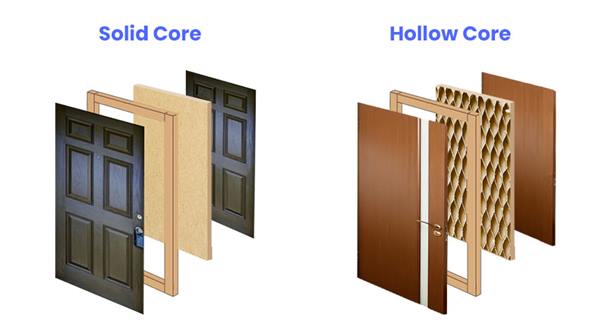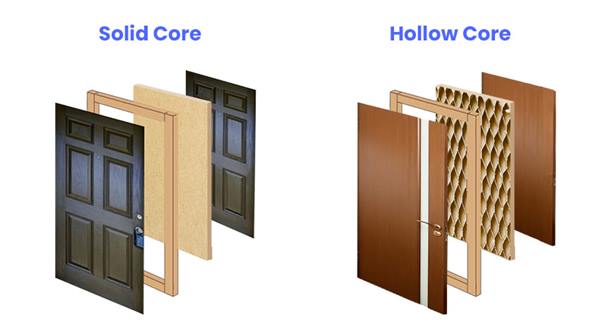 A solid core is very important in securing your door against forced entry. It's also a long-term solution where you won't have to worry about anything else.
I would suggest you have one solid core installed in each of your rooms to make the security foolproof.
Unlike door jammers and security bars, the solid core is comparatively expensive, but that shouldn't trouble you because it's an investment.
Solid cores are essential for you if you have hollow wooden doors because no matter how secure you feel, they are not reliable against strong burglars with tools.
So, you must have solid door cores to prevent the door from being kicked in from outside.
Installing a solid core for your door is not as easy as ABC, and it should only be done by professionals, which is why I haven't shared any steps for it.
I would request you not to take any risks and let the experts in the field handle this, but you must do your research for which material and brand is the best as a long-term investment.
If you think that a solid core is not compatible with the kind of door you have, you should know that the market has various cores to offer you. You can customize the size and material you like.
3. Smart Security Systems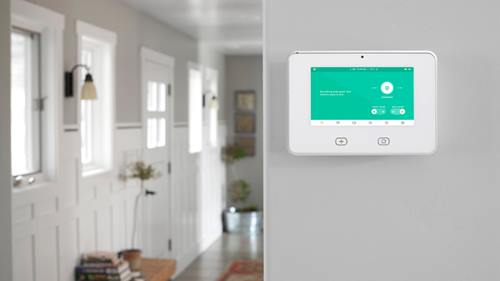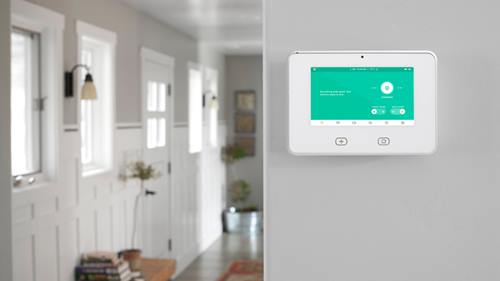 We have talked about different things for front door kick-in protection.
From portable devices to fixed alternatives, I've told you a couple of options for either. But now is our time to jump into premium security measures like installing a smart security system for 24/7 surveillance.
A smart security system includes security cameras (outdoor, indoor, doorbell) and motion sensors.
The good part is that some companies help you make up a customized security system by choosing any security device individually, and they cost you accordingly.
Why would you use a security system if you already have door jammers and solid cores?
A security system is extremely useful to keep the door from being kicked in and protects your home. It's being used worldwide, and the growth chart is only going up due to the fruits people enjoy from smart devices.
About Smart Devices
An outdoor security camera keeps track of who comes in and when so you have everything recorded.
A doorbell security camera lets you handle the burglar or any visitor before they can make any damage.
How to prevent someone from kicking in your door? Motion sensors will do that just in time. They will detect movement in seconds and inform you with alarms or the security app you've integrated with your home security.
Benefits
Unrestricted monitoring
Keep a check on your home remotely
Control who enters or leaves the house with home automation
Timely tracking
A little tip before you install a security system is to go for a registered brand that has a good reputation among the users because good security systems are expensive. The installation is somehow easier but it's suggested to prepare beforehand.
2. Reinforce the Door Frame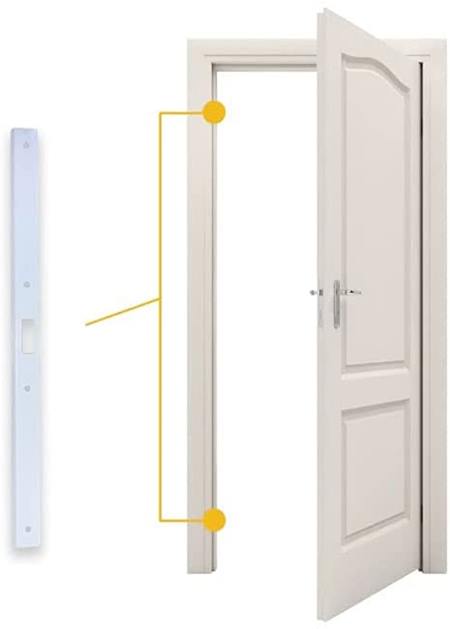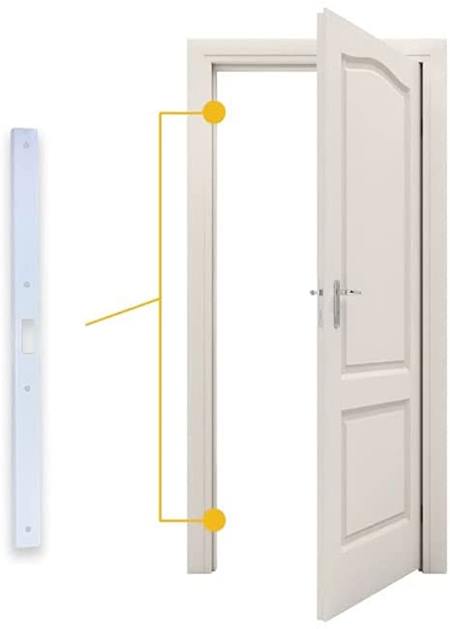 Another option among others is to reinforce your front door, which will further secure the entrance of your home.
With the door frame reinforced, you can have a foolproof kicked-in door frame that will not expose you to residential security vulnerabilities.
How to reinforce your door frame?
We will need a deadbolt and strike plate to help the door frame serve its rightful purpose to strengthen your front door against forced entry.
You can buy a kit with all the tools, but it can be a bit expensive. The good part is that you can use it anytime in the future.
The process will start with fixing the hinges and then step by step to other things. One of the things to keep in check is to keep the strike plate in view and minus any other alternatives that anybody may have suggested because they aren't deemed as secured as a strike plate.
A safer way is to hire a professional to take care of all of it for you because it can get complicated for a non-technical individual, especially if you're not good with the tools.
1. Deadbolt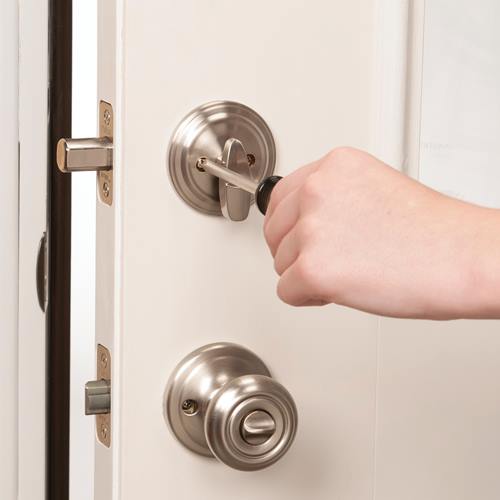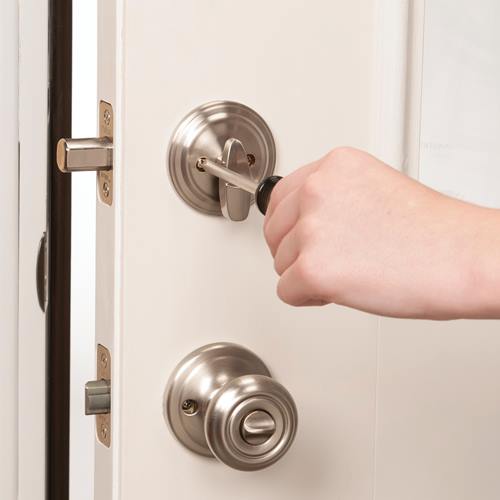 Now we talk about how to reinforce a deadbolt lock or have one placed in your usual door to get the [peace of mind you truly deserve.
I can guarantee everybody will advise you to have a deadlock installed whenever you'll ask them about how to make your door more secure. Deadbolts are a must-have security supporter in the eyes of professionals.
Do you have a door lock to prevent kick-ins? It's not going to be enough to help you have a restful sleep at night which means you will need a deadbolt.
What to look for in a deadbolt
First and foremost, you should buy a deadbolt that is ANSI (American National Standard Institute) certified.
These kinds of deadbolts are checked for their durability and then supplied to the market for the public so they are a great investment for the long term.
There are two types of deadbolts available to prevent doors from being kicked in. One is a grade 1 deadbolt, the other is a grade 2. I would personally suggest you go for grade 2 deadbolts. To be honest, both grades work just fine so there's no need to put in extra thought.
The ANSI-certified deadbolts can handle up to 10 strikes with 75 pounds of force applied.
If you have a deadbolt that's not ANSI-certified, replace it immediately. You can also look for one that's UL (Underwriters Laboratories) for a 437 security test.
Take the Most Out of the Deadbolt
Deadbolt is indeed an amazing security tool for your door but to make the most out of it, you will also need a good striking plate.
For a strike plate to work for you, avoid the ones that have a steel cup shape instead of any square or rectangular frame.
The cup shape can give the proper support to the deadbolt and add to the security the deadbolt offers.
How to secure the door from the inside with a strike plate? You need to change the hinges and the older screws.
For the strike plate, you will need bigger screws than the normal ones, and the hinges to have the door frame are equally important.
Conclusion
Each one of us wants to have a peaceful life, and that's only possible when we know we are covered with door kick-in protection.
The burglars will have to go through the most robust security measures.
I've suggested many options to protect your home security, and you can choose accordingly, but I'll say that you should always have portable security devices at home.
As for the permanent fixtures, you need to choose wisely what fits your home door and the frame. If you have a low budget, it's good that you choose door jammers and a door frame.
It'll be a good blend of permanent additional security measures to ensure your safety.
Learn more about Home Security